What is Plagiarism?
Plagiarism is defined as presenting, "intentionally or unintentionally, the ideas or work of another person as one's own ideas, or work without appropriate referencing or acknowledgement" (Edith Cowan University, 2019b, p.4). Plagiarism is the most common and well-known form of academic misconduct.
Cultural Differences
The concept of plagiarism is sometimes difficult to understand, particularly if you are an international student new to studying in Australia. Different countries have differing acceptable practices when it comes to using the work of others. For example, in some countries it is acceptable to use the ideas, thoughts and views of others without acknowledgement. In Australia, as in many other countries, this is seen as stealing. To assure academic integrity, you must include a citation, also known as a reference, whenever you use ideas, viewpoints or findings that originated from another author to support your argument or discussion.
Outcome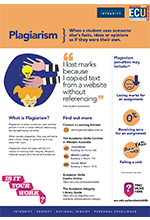 Download the Plagiarism flyer.
Five Strategies to avoid Plagiarism
Learn how to in-text and end-text reference:
Be AWARE of the referencing style required of the assessment task.
Keep track of your research which includes good note-making.
Develop your paraphrasing and academic writing skills.

Complete a Skills Audit to identify the skills you are less confident in.
Attend Academic Writing Skills Workshops.

Seek out ongoing support

In the Library (Referencing):
Academic Skills Centre (Academic Writing):

Know who your Senior Learning Adviser is.
Attend School specific workshops.
Seek feedback from a Learning Adviser on your draft assessment task.
Download the Avoiding plagiarism checklist.
Be Proactive! Engage in the conversations so that you learn the skills of effective paraphrasing and referencing to avoid plagiarism.
Turnitin:
Watch the Reading and Interpreting a Turnitin Report video presentation.
Allow sufficient time to submit your assignment (2-3 days before the due date). If the Unit allows, submit your assignment through Turnitin, check the similarity report and make any changes. Do this at least 24 hours before the submission date. If you require help in checking the similarity report (and remember this is not a plagiarism report) speak to your tutor or a learning adviser.
More detailed information can be sourced from the Submitting Assessments page in the SLIDE Library Guide.
Endnote:
Once you have developed your referencing skills then you might consider using a software referencing tool such as Endnote (which is free for all ECU students). Endnote is a great tool for tracking your research and automating your in-text and end-text referencing. It is not a quick fix and you must know how to reference before using it.
Take the time to attend an Endnote training session in the library which run throughout the semester.